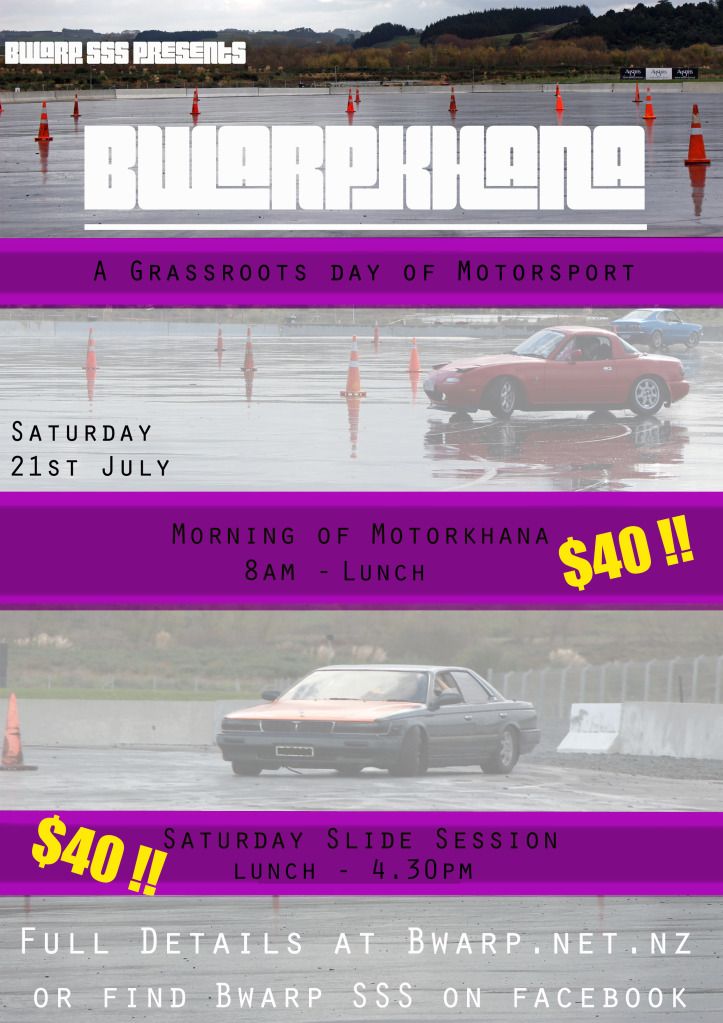 After the success of our first Sunday Slide Session we decided to do it again but bigger and better !!
SATURDAY 21st July
The day will be broken up into two sessions.
The morning will be a test of grip skill with the first Bwarp motorkhana.
The afternoon will be a slide/skid session.
The motorkhana will consist of timed runs, with winners for the fastest overall for each class.
The Slide Session will be run much the same as last time. A basic cone course is laid out for you to practise your drift style.
We will have control of the water on the pad which is an option throughout the afternoon.
$40 For the session of your choice , or $70 for both.
.
ALL PARTYS entering the skid pan area MUST have filled in the relevant forms prior.
THERE ARE ONLY 20 SPOTS PER SESSION
The normal rules apply as to any meet or event you go to:
No drugs, no Alcohol and no douche attitudes
You will need: A car and a helmet...
Car should be up to warrant of fitness standard. The main things that will be checked is secure battery, seat and no loose shit in cabin.
Spectators are free and the more the merrier, come hardpark and talk some smack.
chur